Australian Comedian
Welcome to the official website of Australian Comedian Daniel Townes. Townes started performing stand-up comedy in Sydney in 2003 and has been a full-time stand-up comedian since 2005, he has performed all over Australia and the world and has been lucky enough to work with some of the best international and Australian stand-up comedians that the comedy world has to offer. If you're after more information about Daniel Townes comedy career highlights you can grab his bio here
On this site you will find all of the latest info regarding his upcoming international and Australian comedy shows, podcast episodes, short clips of his stand up comedy etc, it's all here.
He's also got two full-length comedy specials. One is available right here and the other is coming very very soon
For anyone interested in booking this Australian Comedian for a special event or anything along those lines you can reach him on the contact page here, all messages go directly to his inbox.
You can also check out his social media here:
Facebook: Daniel Townes Comedy
Instagram: @daniel_townes
Twitter: @danieltownes
Otherwise, if you like Australian stand up comedians or just stand up comedy content in general, this is a place to get some of it.
Laugh Outta Lockdown shows are coming to Sydney and are bringing comedy back to the Factory Theatre (and other venues). I'm doing a split bill show with Alex Jae and Luke Heggie. We'll be onstage 20 mins each and doing a bunch of new material.
It's the same image as our Sydney Fringe Comedy show from years ago, we haven't been able to get together for a new one.
You can get tickets here.
The show name came from our discussion of what we should call the show, one of us said "it doesn't matter." So we went with that.
Here's the blurb, if this sounds up your alley then come along to Laugh Outta Lockdown Comedy at the Factory Theatre.
"What a year it's been. Who cares? Honestly. Shut up and get on with it. Three of Sydney's finest, Alex Jae, Daniel Townes, and Luke Heggie are re-uniting for a jam-packed hour of new material. There'll be only one of them on stage at a time. There will be no "yes and" folly. Don't panic.
If you want to hear some personal shortcomings being broadcast for all and sundry, some rank and file silliness, and some jokes being made at the expense of those less fortunate, then this will be over half way up your alley. If you wish to rate the performers at volume on your way out because you've watched too much reality television and you think it's necessary to put people in their place, even though you've just watched an hour of champagne comedy with a spumante price tag, then beatings will be administered out the back of the shed where the performance takes place.
There's something for everyone, unless you're a simpleton or a child. Do it."
My Sydney Comedy Festival 2021 Daniel Townes Little Ray of Sunshine is on in May, 13th, 15th and 17th at the Factory Theatre. More details are on the image below and you can grab tickets by clicking the image or here.
I was meant to do this show last year but it got cancelled due to corona. It has been a wild year. This show will feature some of my favourite material from over the years. And a whole bunch of new stuff I've been working on for the last 12 months.
The festival itself kicks off shortly. You can check out all of the shows at the Sydney Comedy Festival 2021 website.
Or grab your tickets to see Daniel Townes at Sydney Comedy Festival 2021 here.
I'll see you around the Factory theatre. Or in the dog park. Or at the supermarket. Not that I've been anywhere near a shopping centre in the last 12 months. That shopping centre one is a bit of a stretch. A dog park on the other hand is highly likely.
Anyways, it's been a ride and all of my gigs since live entertainment has come back have been great fun. I never thought I'd miss something so much.
I hope you and yours have stayed healthy the last 12 months.
I was also a guest on the Andy Social Podcast with Andy Dowling, who you may know as the guitarist from Lord.
This was a lot of fun, I honestly didn't even realise we had started recording.
Listen to the Andy Social Podcast here.
You can also check out an episode of my own podcast with Jo Cooper here
Eh, COVID. What can you say huh? Everything's going digital. But stand up has slowly started coming back and I couldn't be more excited. The gigs so far have been A1 and I am looking forward to getting back into the full swing of things.
In the meantime I've got a few other interesting things I'm working on for the new year, including a new show for some of the Comedy Festivals, and lots more digital stuff. Including this Twitch channel.
As for more podcasts you can expect them to keep coming. I'll be continuing my own now for special occasions and I have a few other ideas in the pipeline for 2021 already. Otherwise catch me on the Andy Social Podcast
Happy New Year everyone. I hope you had a great break and didn't over do it with anything. Or if you did it was within reason.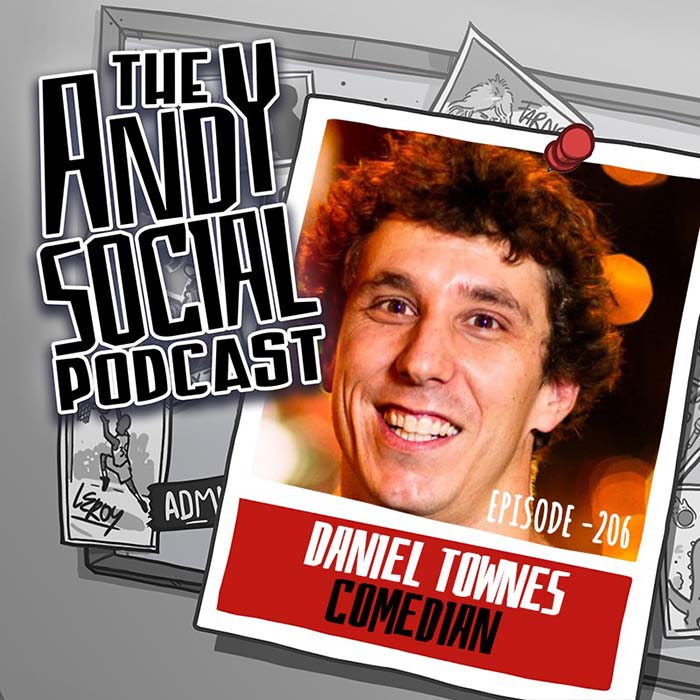 Stay in the know
Join my mailing list for hot updates barely once a month. You can unsubscribe at any point.
Stay in the know
Join my mailing list for hot updates barely once a month. You can unsubscribe at any point.