Australian Comedian
Welcome to the official website of Australian Comedian Daniel Townes. Townes started performing stand up comedy in Sydney in 2003 and has been a full-time stand up comedian since 2005, he has performed all over Australia and the world and has been lucky enough to work with some of the best international and Australian stand up comedians that the comedy world has to offer. If you're after more information about Daniel Townes comedy career highlights you can grab his bio here
On this site you will find all of the latest info regarding his upcoming international and Australian comedy shows, podcast episodes, short clips of his stand up comedy etc, it's all here.
He's also got two full-length comedy specials. One is available right here and the other is coming very very soon
For anyone interested in booking this Australian Comedian for a special event or anything along those lines you can reach him on the contact page here, all messages go direct to his inbox.
You can also check out his social media here: 
Facebook: Daniel Townes Comedy
Instagram: @daniel_townes
Twitter: @danieltownes
Otherwise, if you like Australian stand up comedians or just stand up comedy content in general, this is a place to get some of it.
I'm at The Comedy Store, Sydney from April 4th – April 6th with an absolutely cracking line up of International and Australian comedians.
There are two shows on Friday and Saturday. You can get all of the information and their killer year-round schedule from their website.
If you've just seen me over the weekend and would like to watch me over an hour you can check out my Sydney Comedy Festival show.
Like in previous years I will be doing a new material show at Sydney Fringe in September 2019. I'll add more information as soon as it's available.
My Perth Comedy Festival 2019 show is on sale. It's at the Astor Theatre on May 10th, there's one show only. This is my show from 2018 so it is all cooked up and ready to go. More information and tickets for are available at Perth Comedy Festival
This is the show I just did at Canberra Comedy Festival in March, I'm doing something completely different for Sydney Comedy Festival.
My Sydney Comedy Festival 2019 show is on sale.
Indeed: A collection of all of my favourite jokes I've told over the years as a comedian. Excluding jokes from 2018 and 2017 and including a bunch of new stuff that I've been playing around with since last years festivals.
Dates: May 1st – May 5th
Venue: Factory Theatre
You can get all of the relevant information here.
For anyone in the ACT or Perth, I'm bringing a different show to Canberra Comedy Festival on March 19th, and Perth Comedy Festival in May.
I'm still getting the artwork finalised for the Sydney Comedy Festival 2019 show but in the meantime I've made the handy little pie chart below to show how the five nights are going to play out.
See you there.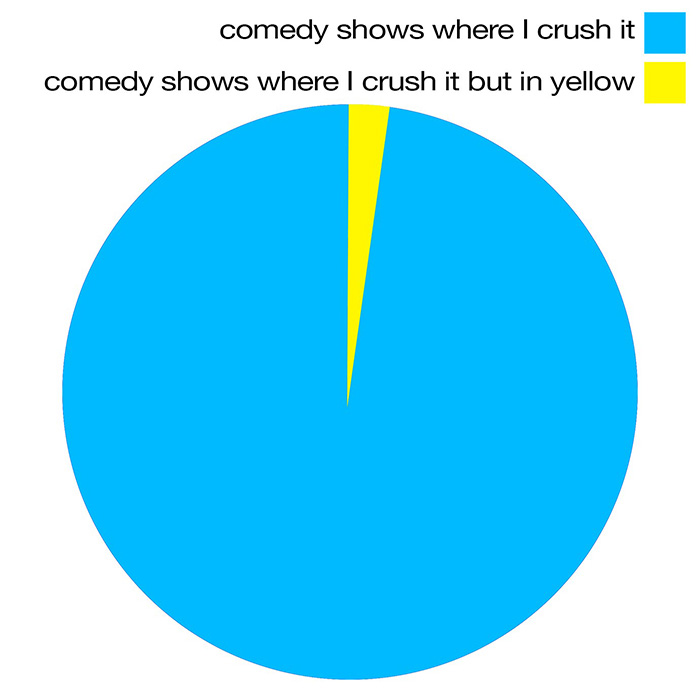 Stay in the know
Join my mailing list for hot updates barely once a month. You can unsubscribe at any point.
Stay in the know
Join my mailing list for hot updates barely once a month. You can unsubscribe at any point.