Australian Comedian
Welcome to the official website of Australian Comedian Daniel Townes. Townes started performing stand-up comedy in Sydney in 2003 and has been a full-time stand-up comedian since 2005, he has performed all over Australia and the world and has been lucky enough to work with some of the best international and Australian stand-up comedians that the comedy world has to offer. If you're after more information about Daniel Townes comedy career highlights you can grab his bio here
On this site you will find all of the latest info regarding his upcoming international and Australian comedy shows, podcast episodes, short clips of his stand up comedy etc, it's all here.
He's also got two full-length comedy specials. One is available right here and the other is coming very very soon
For anyone interested in booking this Australian Comedian for a special event or anything along those lines you can reach him on the contact page here, all messages go directly to his inbox.
You can also check out his social media here:
Facebook: Daniel Townes Comedy
Instagram: @daniel_townes
Twitter: @danieltownes
Otherwise, if you like Australian stand up comedians or just stand up comedy content in general, this is a place to get some of it.
I was also a guest on the Andy Social Podcast with Andy Dowling, who you may know as the guitarist from Lord.
This was a lot of fun, I honestly didn't even realise we had started recording.
Listen to the Andy Social Podcast here.
You can also check out an episode of my own podcast with Jo Cooper here
Eh, COVID. What can you say huh? Everything's going digital. But stand up has slowly started coming back and I couldn't be more excited. The gigs so far have been A1 and I am looking forward to getting back into the full swing of things.
In the meantime I've got a few other interesting things I'm working on for the new year, including a new show for some of the Comedy Festivals, and lots more digital stuff. Including this Twitch channel.
As for more podcasts you can expect them to keep coming. I'll be continuing my own now for special occasions and I have a few other ideas in the pipeline for 2021 already. Otherwise catch me on the Andy Social Podcast
Happy New Year everyone. I hope you had a great break and didn't over do it with anything. Or if you did it was within reason.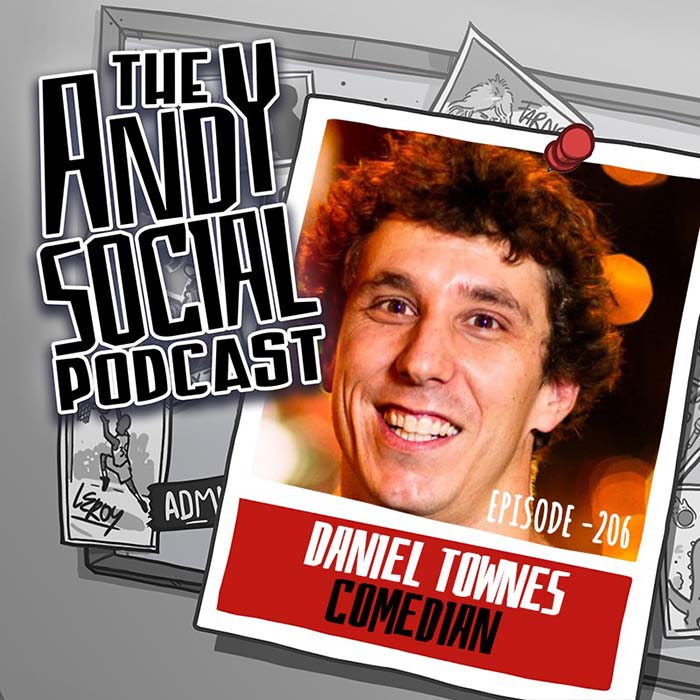 Jo Cooper was recently a guest on The Daniel Townes Podcast to discuss her recent five year legal battle regarding her pooch and best friend Angus. And for challenging NSW strata laws regarding pets and ending all the way at the Supreme Court.
It was a very passionate episode. Outside of her legal battles we also covered racism, sexism, classism, and the abuse that she received for going about something the right way, and having to spend 5 years of her life pursuing the right result.
Re pets and Strata you can have your say here. It's super easy. Do it for Jo Cooper and Angus, and every other pet owner in NSW.
If you'd like more info on Jo and her story well you can pretty much google Jo Cooper Angus and you'll find what it's about. Otherwise here's some links.
I'll also put this on the podcasts page so it doesn't get lost in the wind. The Jo Cooper Episode of the Daniel Townes podcast is number 108.
As mentioned previously it was this episode of The Mugg Off Podcast that led to this happening so thanks again fellas.
Please enjoy this extremely passionate episode / conversation between Jo and I.
And have a great new year.
Woo hoo, Daniel Townes was recently a guest on the excellent The Mugg Off Podcast. It's hosted by 3 Aussie comedy legends.
There's been a long running joke with me and the fellas because I was always going to get them on my podcast and then it went on hiatus. Now I finally got to be on theres. Next time they will be on mine.
This Mugg Off Podcast episode was a lot of fun to record. Them letting me vent like this for an hour about some consumer battles I've had over the years led to the next guest on my own podcast. It wouldn't have happened without this episode. Or I doubt it would have. I sent this episode as a short bio showcasing my expertise in a particular area and thankfully the response was positive.
You can listen to my episode of The Mugg Off Podcast: here.
Thanks to the fellas for letting Daniel Townes vent on your Mugg Off Podcast. I tried to bring some of my best.
I'll also chuck it up on podcasts page so it doesn't disappear from the latest news forever.
As mentioned I've got another episode of my own coming shortly, and another one I recorded during COVID with Andy Dowling. I won't lie, outside of jotting down ideas and writing I haven't really done much since live gigs stopped and I've kinda enjoyed recharging my batteries.
Stay in the know
Join my mailing list for hot updates barely once a month. You can unsubscribe at any point.
Stay in the know
Join my mailing list for hot updates barely once a month. You can unsubscribe at any point.